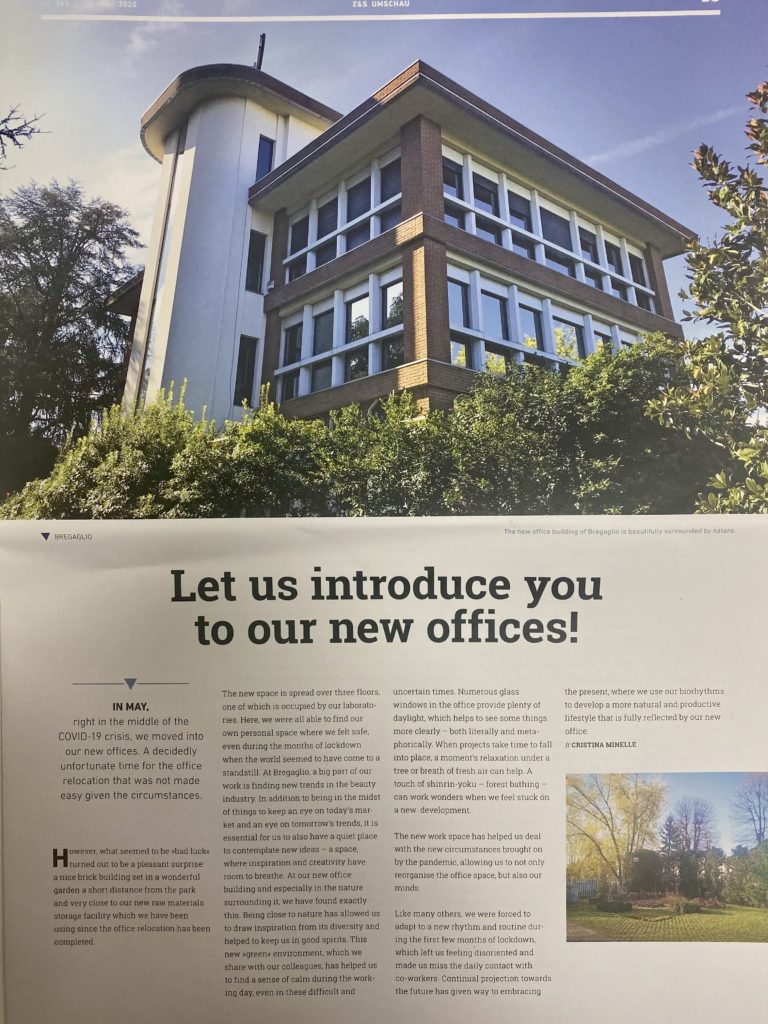 Let us introduce you to our new offices
In May 2020, right in the middle of the COVID-19 crisis, we moved into our new offices. A decidedly unfortunate time for the office relocation that was not made easy given the circumstances. However, what seemed to be "bad luck" turned out to be a pleasant surprise: a nice brick building set in a wonderful garden a short distance from the park and very close to our new raw materials storage facility which we have been using since the office relocation has been completed.
The new space is spread over three floors, one of which is occupied by our laboratories. Here, we were all able to find our own personal space where we felt safe, even during the months of lockdown when the world seemed to have come to a standstill. At Bregaglio, a big part of our work is finding new trends in the beauty industry. In addition to being in the midst of things to keep an eye on today's market and an eye on tomorrow's trends, it is essential for us to also have a quiet place to contemplate new ideas – a space, where inspiration and creativity have room to breathe.
At our new office building and especially in the nature surrounding it, we have found exactly this. Being close to nature has allowed us to draw inspiration from its diversity and helped to keep us in good spirits. This new "green" environment, which we share with our colleagues, has helped us to find a sense of calm during the working day, even in these difficult and uncertain times. Numerous glass windows in the office provide plenty of daylight, which helps to see some things more clearly – both literally and metaphorically. When projects take time to fall into place, a moment's relaxation under a tree or breath of fresh air can help. A touch of shinrin-yoku – forest bathing – can work wonders when we feel stuck on a new development.
The new work space has helped us deal with the new circumstances brought on by the pandemic, allowing us to not only reorganise the office space, but also our minds.
Like many others, we were forced to adapt to a new rhythm and routine during the first few months of lockdown, which left us feeling disoriented and made us miss the daily contact with co-workers. Continual projection towards the future has given way to embracing the present, where we use our biorhythms to develop a more natural and productive lifestyle that is fully reflected by our new office.
Article published on The Zschimmer & Schwarz Group Staff Newspaper – Cristina Minelle 
NO 143 | December 2020